Pru Life UK named International Life Insurer of the Year for the second
consecutive year
Pru Life UK President and Chief Executive Officer Eng Teng Wong thanks the employees, agency workforce
and other distribution partners who tirelessly work and innovate to fulfill the Company's purpose of helping
more Filipinos get the most out of life
Taguig City, August 08, 2022
– Pru Life UK bagged the International Life Insurer of
the Year-Philippines recognition in the Insurance Asia Awards for the second
consecutive year. The company's innovations, new products and partnerships, including
its community investment initiatives were recognized by the organization as it stood
out among its peers who were nominated in the same category in the Philippines.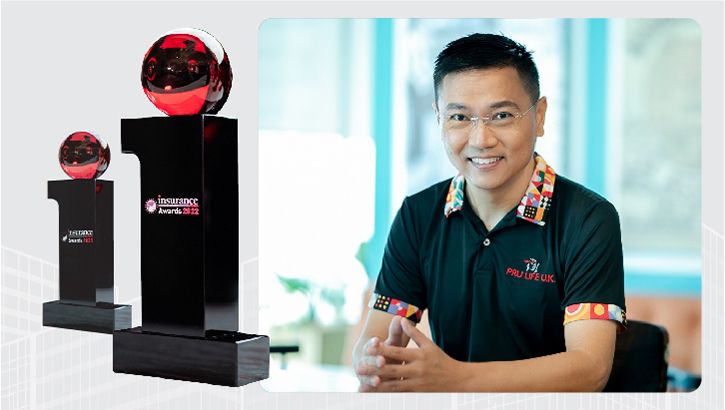 Insurance Asia Awards is a prestigious awards program that recognizes the most
outstanding insurance companies in Asia for their remarkable innovations.
"We are truly grateful and inspired by this honor from the Insurance Asia Awards. I
attribute this recognition to our
employees, agency workforce and other distribution
partners who tirelessly work and innovate to fulfill our purpose of helping many more
Filipinos get the most out of life,
" said Pru Life UK President and Chief Executive Officer
Eng Teng Wong.
The award is another milestone for Pru Life UK as it leads the life insurance industry in
terms of New Business Annual Premium Equivalent based on the Insurance
Commission's official ranking in 2020 and 2021.
Over the past year, the Company strengthened its efforts to promote financial inclusion
through providing simple, accessible, and affordable life and health insurance products
on its pioneering AI-powered app, Pulse. It also offered free COVID-19 protection with
vaccine side effects coverage in the health and wealth management app Pulse in 2021.
Pru Life UK also formed strategic partnerships to expand its reach and offer insurance
protection to more Filipinos in the country. With the customers' safety and convenience
in mind, the Company renewed its partnership with Robinsons Bank and partnered with
CIMB Bank to develop more innovative digital financial products and services, which are
even more essential amid the pandemic. It also expanded its sales agency offices in
Metro Manila, and several provinces in the country.
Outside the country, a notable partnership with Prudential Cambodia allowed more than
7,000 Filipinos in Cambodia and their families to have access to PRUMySafety, a digital
protection product covering customers against the risk of road accidents which is
available on Pulse.
"We are further motivated to drive up financial inclusion even more across the
Philippines, including Overseas Filipino Workers. As one Pru Life UK family with all our
distribution partners, we continue to expand our reach and protect more lives,
especially the underserved and unserved Filipinos," said Wong.
This year, the Company has onboarded on popular ecommerce platforms GCash and
Shopee and made more bite-sized protection products available on Pulse.
It also opened PRUHouse, its agile and dynamic workplace in Ortigas early in the year,
to create adaptable workspaces fit to the different workstyles of its growing sales force.
To know more about Pru Life UK, please visit its website at
www.prulifeuk.com.ph
or its
official facebook page at
https://www.facebook.com/prulifeukofficial/
.
***
About Pru Life UK
Established in 1996, Pru Life UK is the pioneer of insuravest, or investment-linked life insurance products,
in the Philippines and is one of the first life insurance companies approved to distribute US dollar-
denominated investment-linked life insurance policies in the country. Since its establishment, Pru Life UK
has expanded its reach to over 190 branches in the Philippines, with the biggest life agency force of about
35,000 licensed agents.
The company ranked first (1st) among the country's life insurers based on the Insurance Commission's Full
Year 2021 rankings in terms of new business annual premium equivalent. Pru Life UK is headquartered in
Uptown Bonifacio, Taguig City.
Pru Life UK and Prudential plc are not affiliated with Prudential Financial, Inc. (a company whose principal
place of business is in the United States of America), Prudential Assurance Company (a subsidiary of M&G
plc, a company incorporated in the United Kingdom), Philippine Prudential Life Insurance Company,
Prudentialife Plans, Inc. or Prudential Guarantee and Assurance, Inc. (all Philippine-registered companies).
Pru Life UK is a life insurance company and is not engaged in the business of selling pre need plans.
For more information:
www.prulifeuk.com.ph