She Didn't Give Up on Mayor Isko
Happy Mother's Day!
I'M OK MOM… 'COZ YOU'RE OK!"Just hug me mom. Don't bother to ask if I'm ok. Your hug means so much to me. Today, you are the real VIP."HAPPY MOTHER'S DAY TO THE REAL VIPs! Give your mothers the best gift today: https://bit.ly/3aMl5X1Shop online: https://bit.ly/2WbFkbx#NothingtoLoseNovuhair #BelieveInYourself #ChooseNatural #NovuhairCares #NovuhairMom

Posted by Novuhair on Sunday, May 3, 2020
As the old adage goes, "Behind every great man there's a great woman." Mayor Francisco Domagoso or simply YORME, shares his heartwarming Mother's Day message to a great woman behind his great success and to all the Filipino MOMS – the Real VIPs!
Watch the full video at https://bit.ly/35O5F3S
As the elected City Mayor of Manila, endearingly called by most Filipinos as Yorme, he never wavered amidst adversities hurled at him for taking several steps in making a better version of the city he fondly calls his home and crowning glory.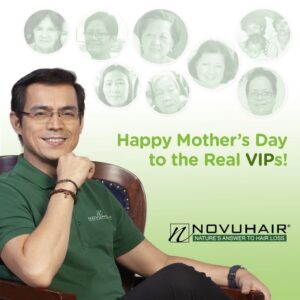 On this special occasion, Yorme encourages all Filipino moms to be stronger for their families while consciously maintaining a healthy work-life balance and to continue their selfless dedication amidst the uncertainties of this pandemic war – "Believe in yourself! You've got nothing to lose."
How about making your mom feel that she's the real VIP today? Discover a natural female hair loss treatment at https://bit.ly/2SjZ9wc
Formulated with 19 of nature's finest ingredients, NOVUHAIR® offers a natural hair loss solution that helps address the early warning signs especially for those in search of a natural alopecia treatment – nothing doubtful compared to home remedies for hair loss, nothing worrisome versus chemical-based treatments and nothing disadvantageous unlike most instant fiber hair loss solutions that provide temporary baldness cures. Find out more at www.novuhair.com
SHE DIDN'T GIVE UP ON YORME☝Happy Mother's Day! 💚 As the old adage goes, "Behind every great man there's a great woman." Mayor Francisco Domagoso or simply YORME, shares his heartwarming Mother's Day message to a great woman 🤱 behind his great success and to all the Filipino MOMS – the Real VIPs!Watch the full video at https://bit.ly/35O5F3SHow about making your mom feel that she's the real VIP today? Discover a natural female hair loss treatment at https://bit.ly/2SjZ9wc#NothingToLoseNovuhair #ChooseNatural #NovuhairCares #NovuhairVIPmoms

Posted by Novuhair on Friday, May 8, 2020
#NothingToLoseNovuhair #ChooseNatural #NovuhairCares #NovuhairVIPmoms
***

#LarawanAtKape #LarawanAtKapeNet #NothingToLoseNovuhair #ChooseNatural #NovuhairCares #NovuhairVIPmoms