ACC PHILIPPINES OPENS 20TH ANNIVERSARY YEAR
WITH LEON GALLERY BENEFIT ART AUCTION ON FEB. 22
The Asian Cultural Council Philippines (ACCP) Foundation opens its 20th anniversary celebration this year with the ACC Art Auction on February 22, 2020 at Leon Gallery.
An important endeavor that solidly bonds ACCP and Jaime De Leon of the premiere auction house Leon Gallery, the event is expected to feature an array of impressive works topped by a 1930 Fabian Dela Rosa painting in oil "Dos Hermanas" (Two Sisters)," a gift of fabled artist Fabian de la Rosa to Rafael Palma, journalist, patriot, and President of the University of the Philippines and Ang Kiukok's 2001 oil piece "Still Life (Window Series)". Other works by modern and contemporary masters such as Hidalgo, Manansala, Malang, Bencab, Sanso, Lao Lianben and National Artist and first ACC Grantee for visual arts Jose Joya, are also featured as part of the more than 150 pieces that are up for bidding. In the same auction two years ago, it was Joya's iconic "Space Transfiguration" (1959) that fetched a record-sale.
Also included are items of historical significance, finest antiques, distinct furniture pieces and other objets'd art that are impeccably rare and sought after.
The ACC Art Auction 2020 is the sixth collaboration of ACCP and Leon Gallery. As Chairman Ernest L. Escaler and President Maribel Ongpin affirm, "it is a partnership that has grown formidable with the shared aim of promoting Filipino artists." Immensely grateful of the invaluable and generous contributions by Leon Gallery and private benefactors through the years, the ACCP is ever more ardent in its mission, shared across the ACC offices in New York, Hong Kong, Taiwan and Tokyo.
ACC FELLOWSHIP PROGRAM
A fulfilling journey of engaging and supporting creative stalwarts and young brilliant talents under its grants fold, the role of ACC has never been more crucial and vital.  It paves opportunities for creative explorations, personal empowerment, and essential cultural connections. ACC remains relevant in providing a distinct grants program that advances international dialogue, understanding, and respect through meaningful cultural exchange anywhere in the United States and Asia.
At the most opportune time, the Philippine fellowship Program continues to make a marked difference in the lives of a growing list of Filipino artists, scholars, art professionals and institutions.  To date, over 300 individuals– experts, leading contemporary and young emerging artists in theater, music, dance, literature, architecture, and other allied arts, including institutions and organizations, make up the prolific grantees list. It is bannered by National Artists Lucresia Kasilag, Jose Maceda, Francisco Feliciano and Ramon Santos for Music; Jose Joya for Visual Arts, Alice Reyes for dance and Kidlat Tahimik for Film; and institutions such as the Asian Composers League, Ballet Philippines, Cultural Center of the Philippines, Museo Pambata, National Museum, and UP Ethnomusicology, to name a few.
ACC PHILIPPINE GRANTEES for 2019
Recipients of the ACC Phil. Fellowship Program for 2019 are the following:
BALLET PHILIPPINES
Project grant support for a two-week lighting design master class by American expert Jennifer Tipton for lighting designers from the region and Southeast Asia;
KEVIN CASTELO (Music)
Graduate Scholarship support for a master's degree program majoring in percussion performance at the Jacob's School of Music, Indiana;
ABNER DELINA, JR. (Theater)
Fellowship support to participate in contemporary theater workshops and multicultural theater collaboration in New York City;
KING KONG ART PROJECTS
Project Grant to support representatives Gail Vicente and MM Yu from the Roberto Chabet Archive to observe conservation and collections management practices in the United States;
ELENA LANIOG (Dance)
Fellowship support to participate in the 2020 International Choreographers Residency Program at the American Dance Festival and engage with contemporary movement practice in New York City;
ZENY MAY RECIDORO (Art Criticism)
Graduate Scholarship support for a master's degree program in art writing at the School of Visual Arts, New York
Online application period for the annual ACC Fellowship starts September 1 until November 1 via www.asianculturalcouncil.org
The ACC Art Auction starts 2:00PM on Saturday, Feb. 22, 2020 at Leon Gallery, G/F Eurovilla 1, Rufino Corner Legazpi Streets, Legazpi Village, Makati City with a special preview week exhibit opening on February 15, 2020.
For more details: www.leon-gallery.com/ www.asianculturalcouncil.org
###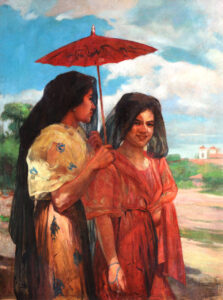 FABIAN DELA ROSA
"Dos Hermanas" (Two Sisters), 1930
(a gift of fabled artist Fabian de la Rosa to Rafael Palma, journalist, patriot, and President of the University of the Philippines)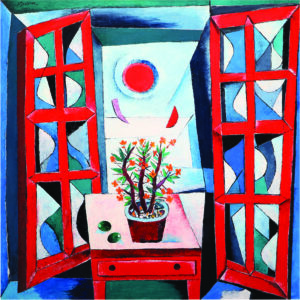 ANG KIUKOK
Still Life (Window Series), 2001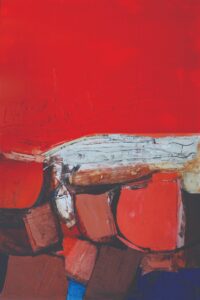 JOSE JOYA                                                                      Prelude to Violence
Oil on wood 48" x 32" (122cm x 81cm)
1972 (signed and dated)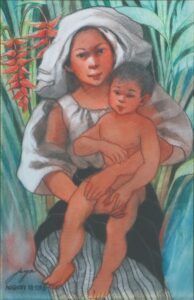 JOSE JOYA Mother and Child
Pastel on Paper
19 ¾" x 12 ¾ " (50cm x 32cm)
1993 (signed and dated)
JOSE JOYA
Susurro del Mar (Whisper of the Sea)
oil on wood
18" x 24" (46cm x 61cm)
1961 (signed and dated)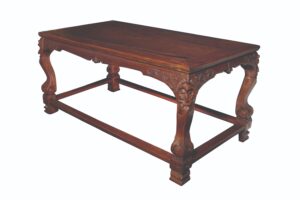 Refectory Table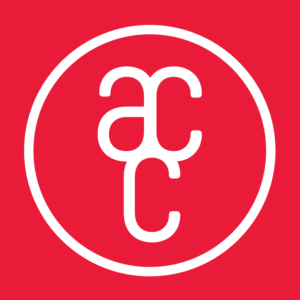 ***

#LarawanAtKape #LarawanAtKapeNet #ACCPhilippines #LeonGallery