Unplug and Play: Volvo PH poised to roll out pure electric C40 and
XC40 Recharge models
Volvo Philippines is geared to launch its two new all-electric models on October 4, 2023. The pure electric Volvo C40 Recharge Twin and the XC40 Recharge Twin models are revived up to roll on Philippine roads by the start of the fourth quarter of this year.
"We are thrilled to introduce two purely electrifying models – the Volvo C40 and the Volvo XC40. These models both carry Volvo Cars' ambition of becoming a fully electric car company by 2030. We believe it's time for the Philippine market to discover the benefits of driving a pure electric Volvo car and experience for themselves what sustainable mobility is," enthused Volvo Philippines President and CEO Atty. Albert Arcilla.
Double the Fun
Dubbed the "twins", the pure electric Volvo C40 Recharge and XC40 Recharge share similarities that highlight the Volvo DNA running in their electric veins. Both the C40 Recharge Twin and XC40 Recharge Twin share identical dimensions as they share the same platform. At the core, the twins also run on twin motors with 408 horsepower and 660Nm of torque. Both are all-wheel drive variants that deliver impressive range improvements. They sport an in-house developed 183kW permanent magnet e-motor on the rear axle and a new 117kW asynchronous electric motor on the front axle.
This configuration, paired with an 82kWh battery pack and overall efficiency improvements in battery cooling, means the XC40 Recharge Twin Motor AWD can now drive up to 537 kilometers on a single charge (WLTP). The range of the C40 Recharge Twin Motor AWD has improved up to 549 kilometers from 447 kilometers (WLTP) when it was first launched globally.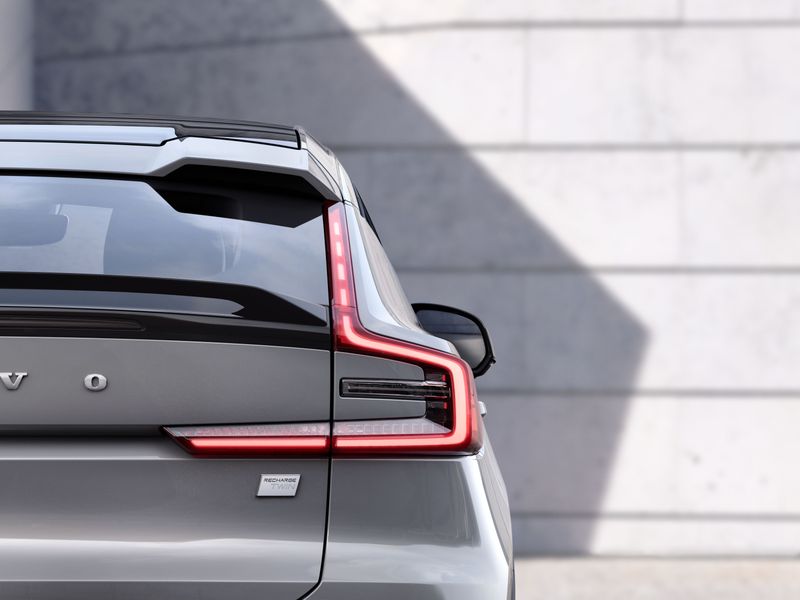 Do a Double-take
Driving the Volvo C40 Recharge and XC40 Recharge will surely gain you second looks
(possibly more). These twin Swedish stunners display cutting-edge design and a modern
statement. A new front bumper and a frameless grille plate keep the all-electric XC40 Rechargen visually in sync with the Volvo C40 Recharge, aligning the two cars that symbolize Volvo Cars' electrification journey.
The signature Thor's Hammer headlights are augmented with state-of-the-art pixel LED light technology, enabling them to automatically adapt to traffic in front and efficiently light up the road ahead without dazzling other drivers.
Exterior updates also help to improve efficiency where possible. For example, a new 19-inch alloy wheel for both the XC40 Recharge and C40 Recharge not only boosts the overall look of the models but also helps to reduce drag through its aerodynamic design.
While these new models share similarities, it cannot be denied that their unique personalities still shine through. A main differentiator between the two would be the Volvo C40's sloping, coupe-like roofline. The C40 also flaunts a different tail light design that adds to its sleeker and more dynamic look. Because of the roofing shapes, the C40 also boasts greater headroom in the front while the XC40 offers superior rear headroom.
Leading the Charge
Volvo Cars was the first established car maker to commit to all-out electrification and aims to sell only pure electric cars by 2030. Already by 2025, it aims for half of its global volume to consist of pure electric cars. Reflecting Volvo Cars' ambition to be an industry leader in safety, the upcoming generation of Volvo models also aims to set new standards in safety.
In the Philippines, Volvo is the first luxury car brand to bring in plug-in hybrid vehicles in the market. In 2022, Volvo PH introduced a lineup of mild hybrid vehicles, making the company the first luxury car brand to offer an all-electrified range in the country.
Note to editors: Range according to the realistic WLTP driving cycle under controlled conditions for a new car. Real‐world range may vary.