Holcim launches Excel ECOPlanet in Northern Luzon 
Holcim officials with customers during the Northern Luzon launch of Excel ECOPlanet in La Union on May 23  
Leading building solutions provider Holcim Philippines, Inc. has launched its rebranded general purpose cement Excel ECOPlanet in Northern Luzon to better support the region's sustainable development and further accelerate the company's efforts to decarbonize construction.  
The company gathered over a hundred of its top Northern Luzon customers in La Union on May 23 to officially launch Excel ECOPlanet as its main general purpose cement. Holcim Philippines rebranded Excel ECOPlanet with its successful efforts to slash the carbon footprint of the product by at least 30% compared with Ordinary Portland Cement (OPC). 
Excel ECOPlanet continues to provide excellent performance for general construction applications, with concrete having improved workability and durability due to its high resistance to sulfate, low porosity and minimized cracks and shrinkage.  
Holcim Philippines President and CEO Horia Adrian: "We are excited to finally bring Excel ECOPlanet to Northern Luzon. Our company has proudly helped build many of the important structures for development in Northern Luzon, and this product enables us to continue contributing to progress that is respectful to the environment and uplifting to our communities. We look forward to working with customers to advance green building in Northern Luzon with Excel ECOPlanet." 
Launched over 20 years ago, Excel was among the first blended cements produced by Holcim Philippines for general construction and has become one of the most trusted brands in the market with over two billion bags sold. Its low carbon footprint qualifies it to bear the ECOPlanet mark, which is reserved for the Holcim Group's line of high-performance and eco-friendly cements. Introduced by the Holcim Group in 2021, ECOPlanet is the world's broadest range of green cement with at least 30% lower emissions to help builders reduce the carbon footprint of construction. 
Since 2018, Holcim Philippines has cut its carbon footprint by more than 20% by producing more blended cements, replacing coal with qualified wastes as alternative fuels and raw materials, and improving efficiency of operations. The company has accelerated innovations to produce a wider variety of high-performance blended cement for specific applications such as Solido for roads, Aqua-X for water protection, and WallRight Prime for masonry.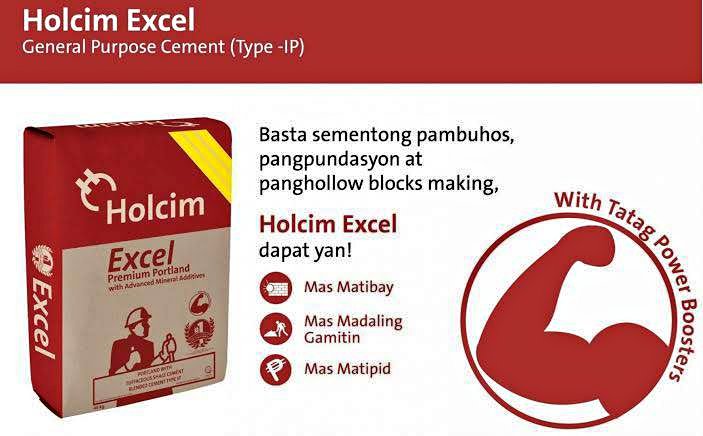 The company's carbon footprint reduction program is aligned with the Holcim Group's net zero direction and the country's Nationally Determined Contributions. Aside from its own initiatives, Holcim Philippines is working with key stakeholders to encourage the consumption of low-carbon products to reduce the footprint of the built environment. 
Holcim Philippines, Inc. (Philippine Stock Exchange: HLCM) is one of the leading building solution companies in the country. The Company has a deep portfolio of innovative solutions fostered by a full range of products from structuring to finishing applications that can help local builders execute with high performance and efficiency a wide range of projects from massive infrastructure to simple home repairs. 
With cement manufacturing facilities in La Union, Bulacan, Batangas, Misamis Oriental and Davao, as well as aggregates and dry mix business and technical support facilities for building solutions, Holcim Philippines is a reliable partner of builders in the country. 
Holcim Philippines is also committed to the highest standards of sustainable operations and manufacturing excellence with its plants certified under ISO 14001:2015 (Environmental Management System), ISO 9001:2015 (Quality Management System) and OHSAS 45001:2018 (Occupational Health and Safety Management System). 
Holcim Philippines is a member of the Holcim Group, the world leader in the building materials industry. 
Holcim is a global leader in innovative and sustainable building solutions. Driven by its purpose to build progress for people and the planet, its 60,000 employees are on a mission to decarbonize building, while improving living standards for all. The company empowers its customers across all regions to build better with less, with its broad range of low-carbon and circular solutions, from ECOPact to ECOPlanet. With its innovative systems, from Elevate's roofing to PRB's insulation, Holcim makes buildings more sustainable in use, driving energy efficiency and green retrofitting. With sustainability at the core of its strategy, Holcim is becoming a net-zero company with 1.5°C targets validated by the Science Based Targets initiative (SBTi).