Their BEST KEEPS GETTING BETTER: MOTOLITE's EXCEL & EXCEL EFB batteries
Motolite, the Philippines' top battery brand, continues to improve on its offerings to the motoring public with two of the Automotive Batteries from their EXCEL series of batteries: Motolite EXCEL & Motolite EXCEL EFB.
Using German technology and its state of the art manufacturing & testing facilities, Motolite has engineered these top of the line batteries to meet the needs of a growing selection of premium automobiles operating in the demanding Philippine climate.
Motolite EXCEL's features include:     
A high-purity electrolyte formulated to minimize water loss and slow down self-discharge, even under extreme temperatures caused by under-the-hood engine heat combined with excessive tropical heat;
A specially formulated paste to increase cranking capability and cycle endurance;
Thick, rigid, full-framed positive and negative grids with wire architecture optimized for current delivery, mechanical endurance, and high-temperature corrosion resistance;
Glass-mat laminated polyethylene separator envelopes that secure active masses, preventing shedding even on deep discharges and tough road conditions, delivering exceptional durability and longer service life;
Battery cell designs with snug-fitting elements that improve vibration resistance, increase mechanical durability, and prevent short circuits;
Thicker posts and through-the-partition cell connectors that promote more efficient current flow, helping achieve maximum capacity, exceptional durability, and longer service life.
An impact-resistant all-weather casing with polypropylene covers and containers designed for all types of battery trays and compartments.
The Motolite EXCEL battery is designed for delivery optimum starting power for premium automobiles in a broad selection of sizes, including DIN (Deutsches Institutfür Normung or German Industrial Standard) sizes prevalent among European vehicles, and some Japanese, Korean, American, and Chinese cars.
Motolite EXCEL EFB's, built to handle the punishment of start-stop engines, include these features:
Low-type plates providing more headspace for acid, to keep battery temperatures lower, allowing for longer battery life;
Enveloped positive plates to prevent deep discharges, and thick-cast positive plate grids for increased corrosion resistance;
Full-bordered negative plate grids less prone to internal short circuits;
Reinforced upper frames more resistant against grid growth and corrosion, with rounded edges to also avoid sudden internal short circuits;
Product-specific container ribs for increased resistance to vibration;
Redesigned element rests for the effective channeling of plate residues that build up in the course of battery use.
Optimized wire design that lowers electrical resistance, and improves current distribution; and
Special paste additives and electrolyte additives that prevent deep-discharge shorts, and slow down self-discharge.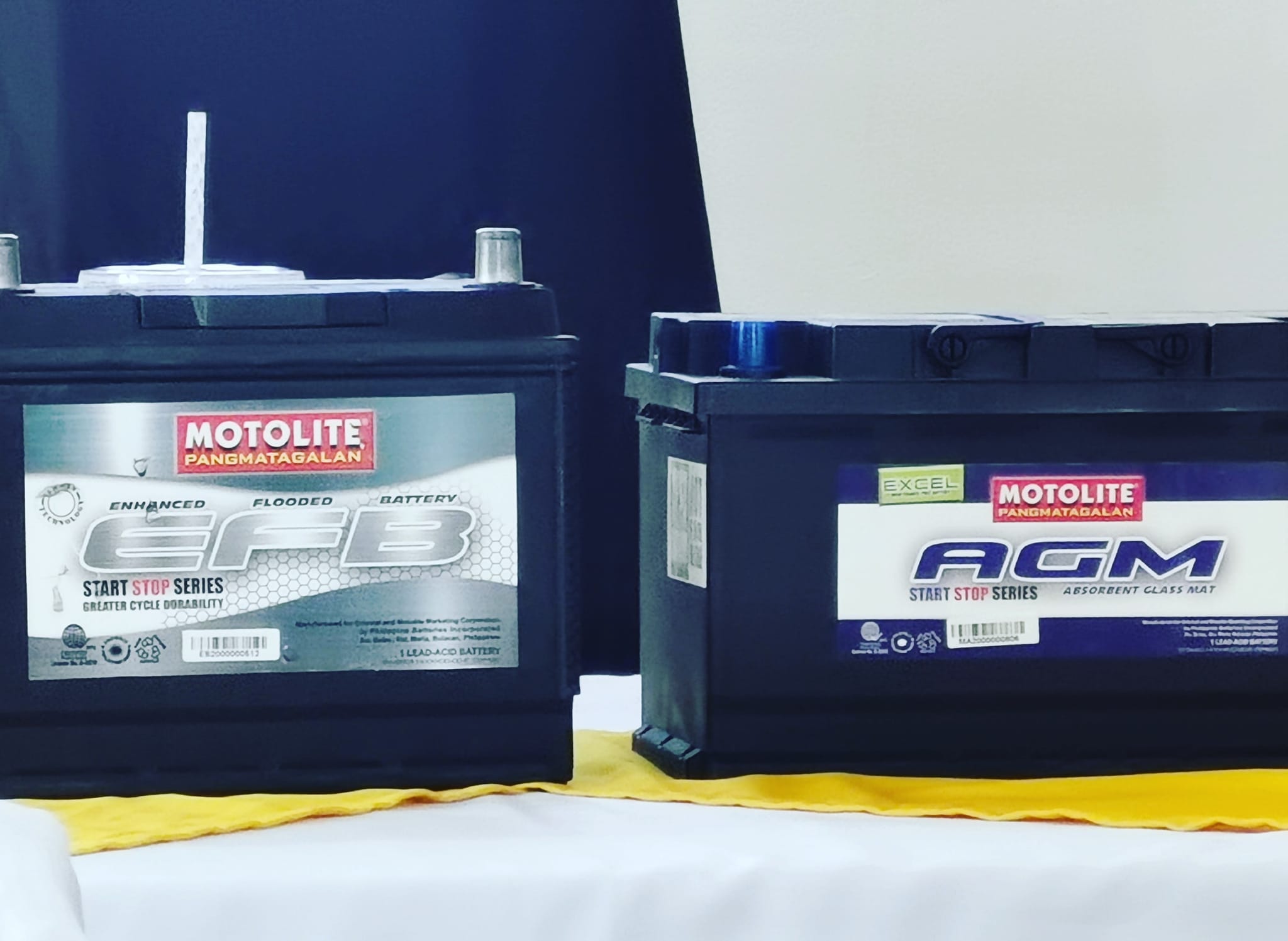 Motolite EXCEL EFB is designed for extended performance, able to endure the punishing demands of start-stop vehicles on its starter batteries – even under the punishing road and weather conditions of the Philippines.
Both batteries are backed by Motolite's nationwide warranty coverage. Motolite EXCEL offers a 24 Month Warranty, while Motolite EXCEL EFB offers an 18 Month Warranty for start/stop vehicles, or a 27 Months Warranty for conventional vehicles.
For prompt free delivery and expert advice on the appropriate sizes for your car batteries, contact these Motolite Express Hatid Hotlines: (02) 8370- 6686 for Metro Manila, 1-800-10-370-6686 for Provincial Toll-Free, (0918) 843 6686 For SMART users, and (0917) 891 6686 for GLOBE Users. You may also visit Motolite's new website at www.motolite.com to check Motolite's complete line of batteries.