TABASCO® SAUCE FAMILY OF FLAVORS® IN THE PHILIPPINES
With more than a century of experience in pepper sauce craftsmanship, McIlhenny Company is constantly experimenting with new flavors in the TABASCO® Flavor Lab. This innovation allows McIlhenny Company to offer new and exciting products that satisfy the evolving global palate and naturally enhance the new and exciting ways people are eating today.
Since the introduction of TABASCO® Sauce in 1868, the Family of Flavors has grown considerably, with sauces ranging from mild to bold and smoky to sweet, plus seasonal small batch releases that answer a specific need for the most passionate food lovers.
Facts
TABASCO® Original Red Sauce
Information: TABASCO® Sauce is the original pepper sauce created by Edmund McIlhenny in 1868 that blends with everything it's added to, accenting flavors and never masking them.
TABASCO® Sauce is made from three natural ingredients: tabasco pepper mash aged in white oak barrels, a small amount of salt and high-quality vinegar. The result is a finished pepper sauce that adds much more than just heat.
Suggested Usage: TABASCO® Sauce livens up almost any recipe or dish. It's a classic ingredient in steak tartar and the iconic Bloody Mary. More recently, it's received attention as a delicious addition to eggs, pasta sauces and pizza.
TABASCO® Green Sauce
Information: TABASCO® Green Sauce delivers great tangy flavor. It is made from mild green jalapeño peppers mixed with vinegar and salt. While lower on the heat scale than TABASCO®
Sauce, TABASCO® Green Sauce adds a signature zest to a variety of dishes and recipes.
Suggested Usage: TABASCO® Green Sauce enhances a variety of dishes without the bother of seeding, slicing or chopping jalapeño peppers. It's a staple flavor of Mexican food and also can be used in anything from seafood to vegetables, dressings and fruit. A few dashes gives new zip to margaritas and piña coladas.
TABASCO® Chipotle Sauce
Information: TABASCO® Chipotle Sauce is made with vine-ripened, red jalapeño peppers smoked over an open pecan wood fire.
After smoking, the peppers are combined with tabasco pepper pulp, a blend of natural spices, vinegar, salt and water. The result is a rich, smoky sauce with a full-bodied flavor and moderate heat.
Suggested Usage: TABASCO® Chipotle Sauce is a natural fit for BBQ sauces and marinades, not to mention chili and soups. Add a dash to your next dish to get
the "grilled" flavor without striking a match. It complements steak and meat dishes well. Try adding a dash to a michelada recipe.
TABASCO® Habanero Sauce
Information: TABASCO® Habanero Sauce is the hottest sauce in our family of flavors. It's a Jamaican-style hot sauce made from super hot habanero peppers blended with mango, papaya, tamarind, banana, ginger and ground black pepper. The result is a fruity yet fiery balance that adds Caribbean flair to any dish.
Suggested Usage: Just a few drops of TABASCO® Habanero Sauce adds
an adventurous zip to marinades and BBQ sauces and brings out some big flavors in salsas and stews. Whether it's Cajun, Mexican, Caribbean, Asian or African food that's calling your name, our TABASCO® Habanero Sauce delivers the fire with the flavor.
TABASCO® Garlic Sauce
Information: TABASCO® Garlic Sauce is a three-pepper blend—smooth cayenne, aged tabasco pepper mash and mellow red jalapeño—infused with the savory taste of garlic.
Milder on the heat scale, this sauce perfectly balances the flavors of peppers and garlic.
Suggested Usage: TABASCO® Garlic Sauce is a delicious addition anywhere to any recipe that calls for garlic. Whether it's pizza and pasta or a dash on wings and dips, TABASCO® Garlic Sauce appeals to those who
like bold flavors with just a little heat.
***
TABASCO® SAUCE IN CULTURE:
150 YEARS OF CAMEOS & COVETED HONORS
TABASCO® SAUCE IN TV & FILM
Just as a bottle of TABASCO® Sauce can seemingly be found in every pantry, its ubiquity is equally prominent in film and television. The earliest known appearance of TABASCO® Sauce in film dates to 1901, when it appeared as the centerpiece of a 25-second silent movie titled Aunt Jane's Experience with Tabasco Sauce. Since then, TABASCO® Sauce has made a lengthy list of appearances that would humble even the most seasoned actors.
For example, TABASCO® Sauce appeared as a comedic prop in outtakes from Charlie Chaplin's silent film The Immigrant (1917), James Bond movies The Man with the Golden Gun (1974) and The Spy Who Loved Me (1977), and Back to the Future III (1990). In addition, TABASCO® Sauce has been mentioned or used in a number of television programs, including "The X-Files" (1999), "The Simpsons" (2000), and more.
TABASCO® Sauce also showed up in virtually every episode of Roswell (1999-2002), whose alien teenagers regularly spiced up their meals with copious amounts of the sauce. Fans of Roswell so strongly associated TABASCO® Sauce with the program that they flooded the WB Network with thousands of bottles of TABASCO® Sauce to protest the series' cancellation.
TABASCO® SAUCE + THE U.S. MILITARY
McIlhenny Company and TABASCO® Brand products have enjoyed a close relationship with the U.S. military ever since John Avery McIlhenny joined the Rough Riders volunteer cavalry regiment during the Spanish-American War and his son Walter S. McIlhenny served in the Marine Corps Reserve before, during and after World War II.
John Avery was promoted twice on the battlefield for gallantry in action, and followed his former commander, Theodore Roosevelt, to Washington, D.C. There he worked in the Roosevelt, Taft, and Wilson administrations, before retiring in the early 1920s from the U.S. State Department.
John's Avery's son, Walter, joined the Virginia National Guard in 1929 and six years later transferred to the Marine Corps Reserve. During World War II, Walter earned a Silver Star and the Navy Cross for gallantry, as well as a Purple Heart with Gold Star for being wounded twice. In 1959 he retired from the Marine Corps Reserve with the rank of brigadier general.
During his tenure as McIlhenny Company president Walter forged an enduring relationship between the TABASCO® Brand and the U.S. military. For example, one year after US troops entered Vietnam, Walter issued The Charlie Ration Cookbook, which advised soldiers how to spice up their C rations with TABASCO® Sauce. Walter shipped these cookbooks — along with 2-oz. bottles of sauce — to US troops by the thousands.
In the 1980s the military chose TABASCO® Sauce for inclusion in its new MREs (Meals, Ready-to-Eat) and eventually two-thirds of all MRE packets contained a miniature bottle of TABASCO® Sauce. During operations Desert Storm, Iraqi Freedom, and Enduring Freedom, U.S. troops — and even some allied troops — sent letters and souvenirs to McIlhenny Company as tokens of appreciation for the "taste of home." As General Norman Schwarzkopf wrote to a Louisiana congressman in July 1991, "The MRE has definitely been refined over the years, but it is not mom's home cooking. They definitely still can use the flavor of TABASCO® to spice them up."
Still today, any U.S. active duty service member is able to order TABASCO® Sauce from McIlhenny Company free of charge.
OTHER HONORS
Throughout its 150 year history, TABASCO® Sauce has received many honors around the world, and been in the places where history was made. TABASCO® Sauce was present at the excavation of King Tut's tomb; was airlifted by NASA to SKYLAB when the astronauts complained about their bland rations; and in the Himalayas, Mount Everest climbers rewarded their Sherpa guides with bottles of the condiment. TABASCO® Sauce also holds a royal warrant from Her Majesty the Queen of England.
***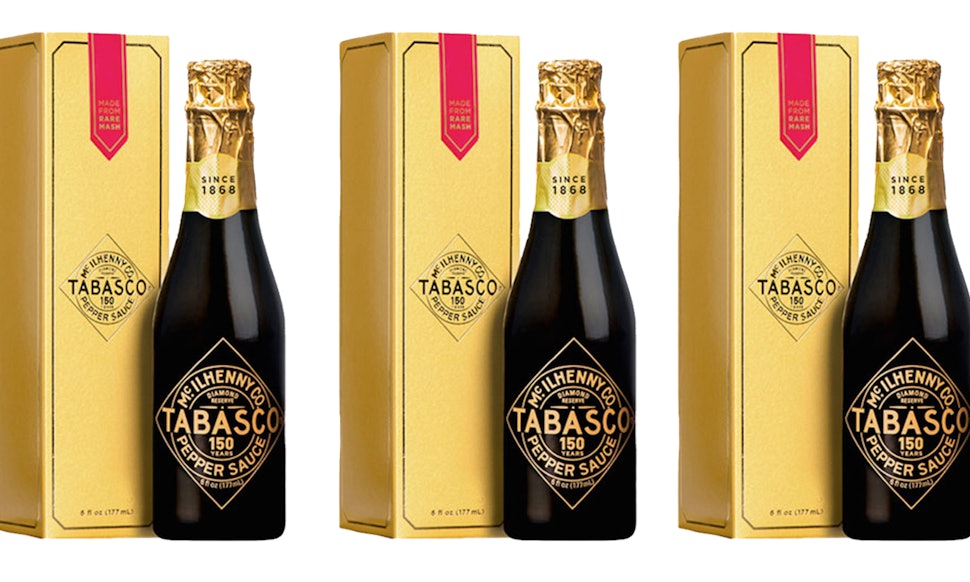 Tabasco's Diamond Reserve Hot Sauce Is The "Champagne" Of Hot Sauces & Comes In A Bottle To Match
Facebook.com/LarawaAtKape
Facebook.com/TechUpdateAsia
Facebook.com/AutoBat
#LarawanAtKape #TechUpdateAsia #AutoBat #Tabasco #HotSauce